Navigate to: Home » BICON Cable Accessories » BICON Cable Cleats and Fixings
THE PURPOSE OF A BICON CABLE CLEAT
The requirements of the IEE Wiring Regulations state that "Every cable or conductor used as a fixed wiring shall be supported in such a way that it is not exposed to undue mechanical strain" .
BICON Cable Cleats
meet this requirement with the added bonus that they also enable a neat and orderly installation to be achieved.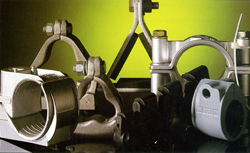 A range of
BICON Cable Cleats
is available to fix cables to a variety of surfaces – including ladder, tray, channel, concrete or masonry. Design features include ease of installation, the ability to accept a wide range of cable diameters, compact proportions and the facility for either double or multi-stacked arrangements to save space.
BICON Cable Cleats
are made from various materials to suit the environment and to be compatible with the cable sheaths. In addition, they must be capable of resisting the mechanical loads of the system and of providing the necessary restraint if a short circuit fault were to occur within the system.


BICON Cable Clamps
satisfy all the above criteria, and items are available to suit the most hostile of environments. For example, certain cleats can withstand temperature excursions up to 1000°C for up to two hours.

All sizes of the more commonly used cables can be accommodated with most
BICON Cable Clamps
, offering a range-take capability second to none. For example, the
BICON Telcleat
range comprises just eight sizes, which both simplifies ordering and stocking, and also enables technicians to carry sufficient quantities of the various sizes around with them to enable the job to be completed quickly.



Technical Data subject to change without notice - Please
contact us
to ensure you get the latest data
download our useful cable cleat selection chart below:

BICON / Prysmian Cable Cleats Selection chart
here



The printable data sheets are in PDF format below:-



**NEW

BICON Stainless Steel Single Cable Cleat 379SC Series



Technical Data subject to change without notice




**NEW

BICON Stainless Steel Trefoil Cleat 379TC Series



Technical Data subject to change without notice


BICON Telcleat 385AA Type



Technical Data subject to change without notice


BICON Afumex Telcleat ( LUL Approved) 385LSF Type



Technical Data subject to change without notice


BICON Claw Cleat (Aluminium) 370BA Type



Technical Data subject to change without notice


BICON Hook Cleat (Aluminium) 371AA Type



Technical Data subject to change without notice


BICON Galvanised Iron Claw Cleat 370CG Type



Technical Data subject to change without notice


BICON 2 Bolt Cleat - (High Density Nylon 66) 374AA Type



Technical Data subject to change without notice


BICON Afumex 2 Bolt Cleat ( LUL Approved) 374LSF Type



Technical Data subject to change without notice


BICON Aluminium 2 Bolt Cleat 370BA Type



Technical Data subject to change without notice

or additional sizes:



BICON Aluminium 2 Bolt Cleat 370BA Type



Technical Data subject to change without notice


BICON Trefoil ( Aluminium Single / 2 Bolt) 376AC / 376AB Type



Technical Data subject to change without notice


BICON Trefoil Cleats Polyamide Two Bolt 375AB Type



Technical Data subject to change without notice


BICON Multicleat / Multistrap System 378AB Type



Technical Data subject to change without notice


BICON FP Firefix Single Clip - for FP200 Gold Cables



Technical Data subject to change without notice


BICON FP Firefix Double Clip - for FP200 Gold and FP Plus Cables



Technical Data subject to change without notice


BICON FP Fire Performance AP Clips



Technical Data subject to change without notice


BICON Cast Iron Two Bolt Cleat 370CG Type



Technical Data subject to change without notice




**NEW

BICON NEW Trefoil Cable Cleat 376TR Range



Technical Data subject to change without notice


**NEW BICON 379TC Series Sirius Trefoil Cable Cleats



Technical Data subject to change without notice


**NEW BICON 379SC Series Orbit Cable Cleats



Technical Data subject to change without notice

BICON Cable Ties
Technical Data subject to change without notice


BICON Packing Piece
Technical Data subject to change without notice


BICON Adaptor Plate
Technical Data subject to change without notice


BICON Lindaptor Fitting
Technical Data subject to change without notice
Below is a short video showcasing the new BICON Shear Torque Tensioner:
Please check our our new
BICON Cable Cleats
website:

BICON Single Way Cable Cleats |
BICON Trefoil Cable Cleats
|
BICON Fire Resistant Cable Cleats
|
BICON Cable Cleat Accessories
|
BICON Cable Cleat Bespoke Solutions