Navigate to: Home » BICON Cable Accessories » BICON Cable Cleats » BICON (Prysmian) Multicleat Multistraps 378AB Series | Trefoil Cable Cleat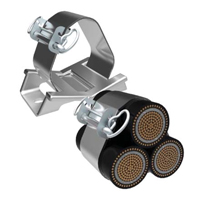 Multicleat / Multistrap

378 Series


• Suitable for use with cable diameters 24 to 145mm.
• Large range take on each size.
• Single or double bolt fixing.
• Operating temperatures -60°C to +105°C.
• All straps manufactured from non-magnetic 316L Stainless Steel.
• Plain Aluminium bases - for normal industrial areas or outdoor unpolluted areas.
• Epoxy coated Aluminium versions or Stainless Steel available for harsher environments.
• Bespoke tensioning adaptor included with every cleat and strap.
• Liners are made from LSOH materials.
• Suitable for single core cables laid in trefoil formation with high fault current capacities.
• Suitable for use with all standard ladder and tray systems.
• Suitable for groups of dissimilar cables.
• LUL APR Product ID 1996.
• Patent number 2082242.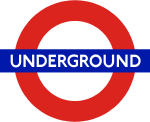 LUL Approved, London Underground Approved



Consisting of Aluminium or Stainless Steel bases with a Stainless Steel strap complete with a tensioning clip the

BICON Multicleat system

offers the best flexibility for cable fixing available on the market today. With an unprecedented test portfolio and service record, the

BICON Multicleat system

should be your first choice for trefoil and single cables installations requiring a high system fault current rating.

Multistraps are used as intermediate restraints and are positioned centrally between a pair of Multicleats. The standard and heavy duty products have different short circuit ratings related to their installation spacings. Please consult the following information in order to make the correct selection.

All Multicleats and Multistraps now come with a disposable shear torque tensioning adapter. This was introduced in response to customer requests to improve the closure of the cleats and also better control the tension applied during installation. The adapter fits into the open end of the winding pin and is used with a standard 13mm socket wrench. Thus simplifying installation. When the correct tension has been applied the adapter shears off LSOH material liners are available for both the Multicleat and Multistrap. The LSOH conform to BS6853. Please contact the technical team who will be able to offer the correct advice to suit your individual installation.



*Technical data subject to change without notice






Installation Sequence
Fasten base to support with M10 fixings. Loop strap through base and around cables.

Standard duty = 2 loops.

Heavy Duty = 3 loops
Pull slack into outer loop. Insert split pin from right hand side around outer layer of strap about 10mm from end.

Push plastic shear torque adaptor fully onto the end of the split pin and attach 13mm socket wrench. To tension the strap rotate key anti-clockwise with the socket wrench until the adaptor shears.
Remove the shear torque adaptor and wrench. Swing the key over and engage in slots in clip.
Multicleat / Multistrap Selection and Spacing for Fault Current Rating
Multicleat / Multistrap
Spacing 'b' m Max
Short Circuit
Cleat Spacing at vertical change of
direction (mm)
Current kA
rms
peak
Standard Duty
1.8
43
114
300
Heavy Duty
1.5
50
130
300
Heavy Duty
1.2
71
184
300
Important note: To ensure adequate restraint, Multistrap MUST be used
at the mid-point between cleats on all horizontal and vertical straight runs.


Horizontal changes in direction, restraint spacing of 300mm maximum. Use Multistrap and/or Multicleat, as appropriate, to suit support structure.
Two Bolt Type: AB, AD and JB
Single Bolt Type: PF
Base Thickness 11mm
Base thickness 6mm
In all applications the Multicleat bases should be fixed with either one or two M10 fixings as appropriate
Miscellaneous Arrangements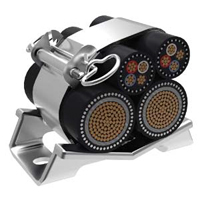 Multicleat/Multistrap System

The Multicleat / Multistrap system is ideally suited for securing groups of cables of differing sizes. Our technical help team will be able to match the correct cleat /strap to for the size and fault rating of the cable arrangement - contact us










Below is a short video showcasing the new BICON Shear Torque Tensioner:



*Technical data subject to change without notice

BICON Single Way Cable Cleats | BICON Trefoil Cable Cleats | BICON Fire Resistant Cable Cleats | BICON Cable Cleat Accessories | BICON Cable Cleat Bespoke Solutions

Please check our our new BICON Cable Cleats website: Prysmian BICON Multicleat Trefoil Cable Cleat 378 Series (Multistrap) | Prysmian BICON Multicleat System (Quadrafoil – Multistrap)


BICON is a registered trademark
of The Prysmian Group